Finest VR Video games (Up to date 2021)
Virtual reality used to be a concept reserved for movies like Tron and The Matrix. The idea of being able to immerse yourself in another reality was both absurd and fascinating. The possibilities were endless as we pondered how the powers that be would be able to captivate all of our senses: would there be virtual reality "smells" and "tastes"?
While we haven't quite reached these possibilities yet, virtual reality is still fun and entertaining. The sense that we've only just dipped our toes in the world of VR still leaves room for our imaginations to run wild as we look to the future.
And look at the progress that's been made so far; some of the earlier VR headsets have improved, while the VR games that have been released with systems like Oculus Rift, PlayStation VR for PS4, and HTC Vive just keep getting more and more realistic. From jumpscares that make you lean back, to enhanced graphics, to more immersive motion controls, VR games are continuing to make great strides.
While all the VR games on the market are impressive, only a few can be considered truly excellent. If you're looking to lose yourself in a fictional world, experience incredible animation, and simply have a good time learning about an interesting story, you're in luck. Read on to see the best VR games on the market.
Superhot VR is a new iteration in the Superhot series that first became so popular in 2016. This action-packed first-person shooter game lends itself perfectly to VR, and requires a lot of motion and space. Yet, you'll leave this T-rated single-player game feeling like you just had a real-life experience, not a VR one.
The objective of Superhot VR is simple: defeat a group of enemy AI humans. Unfortunately, there are two caveats, the first of which is that you have limited weapons and the second being that time moves only when you do. For example, erratic movements with your arms and legs will make time go faster, while subtler movements with your hands or head will give you more time to calculate your next move and get away from enemy fire.
Superhot VR is an active game; while you won't be walking around, you need space to stand, duck, and turn around. Since this is a combat-heavy game, you'll need to be disarming enemies, stealing their weapons, deflecting fire with your own bullets, and shooting to kill. And that's just some of what you'll be required to do if you want to win in Superhot VR.
Superhot VR is an all-around great game. Plus, it's available on all platforms, including Oculus Rift, PlayStation VR, and HTC Vive. Not only does it give you the opportunity to become the character and play in active combat situations, but the minimalistic animation and environment are completely unique.
Read More
Key Features
360-degree tracking
Minimalistic environment
Available on Oculus Rift, PS VR, HTC Vive
Specifications
Genre: Action, First-person shooter
Mode: Single-player
Rating: T
Publisher: Superhot Team
Pros
Interesting premise
Active combat
Tough but rewarding challenges
Engaging gameplay
Cons
Learning curve
Requires a large playing area
Buy This Product
Shop
The Elder Scrolls V: Skyrim VR brings a beloved game to life right before your eyes. For those who don't know, Skyrim is an action role-playing single-player game from Bethesda Softworks. Rated M for Mature and available on Oculus Rift, PlayStation VR, and HTC Vive, Skyrim VR allows for immersive gameplay and full-motion combat.
For those unfamiliar with The Elder Scrolls story, the basic premise is that dragons, who were once lost to the pages of the Elder Scrolls, have returned to Tamriel, causing the future of the Empire to hang in the balance. You play as a character who is a prophesied hero known as "Dragonborn", born with the power of The Voice. You are the only one who can stand amongst the dragons.
Skyrim VR reimagines this fan-favorite fantasy epic, bringing the world of the game to life as you play any type of character and customize however you like, with hundreds of weapons, spells, and abilities to choose from. The legendary freedom of choice, storying, and adventure that users have come to know and love remains while the game engine breathes new life into the classic setting with brilliant skies, mountains, cities, fields, dungeons, and more.
Whether you choose to engage only in the core game or play one of the add-ons with Dawnguard, Hearthfire, or Dragonborn, Skyrim VR allows you to battle ancient dragons as you've never experienced before.
All in all, The Elder Scrolls V: Skyrim VR is a great VR experience for both fans of Skyrim and for newbies to the series. With hours of gameplay available and an extensive world that's ready and waiting to be explored, Skyrim will pull you in and keep you entertained.
Read More
Key Features
Fully-tracked motion controls
Available on Oculus Rift, PS VR, HTC Vive
Includes Dawnguard, Hearthfire, and Dragonborn DLC
Specifications
Genre: Action role-playing
Mode: Single-player
Rating: M
Publisher: Bethesda Softworks
Pros
Immersive gameplay
Extensive world
Hours of playing available
Full motion combat
Cons
Visuals may look dated
Occasionally inconsistent controls
If you're looking for a fun and lighthearted game, look no further than Astro Bot Rescue Mission. Exclusively for PlayStation VR, this single-player platformer from Sony is rated E10+.
In this game, you take on the role of Astro, a captain Bot who must rescue his fellow crew members who are dispersed throughout space. With 20 levels and six big bosses, this game requires you to evade deadly traps and enemies at each twist and turn. Plus, there are 26 extra challenge levels that test your platforming skills. Additionally, you'll get five gadgets you'll need for your quest, including a hook shot, water cannon, ninja stars, and more.
Gameplay unfolds around you in 360 degrees as your character reacts to your movements and your ultra-precise jumps. When sitting, you can move your body to lean around corners should you need a better view. Similarly, you can look around to find hidden paths. You can also turn to weave through the scenery and create other paths. This game will have you jumping and running through a city, wandering through jungles, caves, and beaches, and swimming under the sea. Go at your own pace, discover the secrets, defeat the bosses, and find the eight lost bots per level.
Astro Bot Rescue Mission is a great game for kids or adults and especially for fans of classic platformers like Super Mario. This game is fun and interactive, without requiring too much strenuous activity.
Read More
Key Features
20 main levels and 26 challenge levels
Available on PS VR
Gameplay in 360 degrees
Specifications
Genre: Platform
Mode: Single-player
Rating: E 10+
Publisher: Sony
Pros
Immersive gameplay
Great visuals
Interesting hidden secrets
Fun for fans of Super Mario
Cons
Only available on PS4
Restricted camera angle
Moss is, in a word, cute. Rated E 10+, this single-player puzzle game is also adventurous in nature. Published by Polyarc and available on Oculus Rift, PlayStation VR, and HTC Vive, Moss features a unique storybook atmosphere and a family-friendly vibe.
In Moss, you enter into a storybook world where you meet Quill, a young mouse who wishes she could explore beyond her village and experience what it means to be brave. One day, as she explores the forest, she discovers a Glass Relic that awakens an ancient magic. It's your job to guide Quill on a journey to save her uncle from Sarffog, an evil fire-breathing snake who has taken over their small kingdom.
The game allows players to move objects, battle enemies, and work as an ally to Quill. You can explore caves, forests, and ruins, while searching for and interacting with ancient artifacts and creatures. The game allows you to control Quill with the controller's direction buttons, but also allows you to manipulate the environment of the game with motion controls. It's best to play while standing, so that you can lean to look around corners, and stand taller so you can get an aerial view. This is especially important if you want to receive special collectibles, which can only be found if you search in places that are not in the normal field of view.
At the end of the day, Moss is not only a fun game to play for people of all ages, but it's also unique in its graphics, premise, and general atmosphere. With strong animation and a curious mindset, Moss is an all-around great game.
Read More
Key Features
Available on Oculus Rift, PS VR, HTC Vive
First-person perspective
Uses controller's direction buttons and motion controls
Specifications
Genre: Adventure, Puzzle
Mode: Single-player
Rating: E10+
Publisher: Polyarc
Pros
Unique storybook atmostphere
Family friendly
Strong animation
Encourages exploration
Cons
Weak enemy encounters
Shorter game length
Buy This Product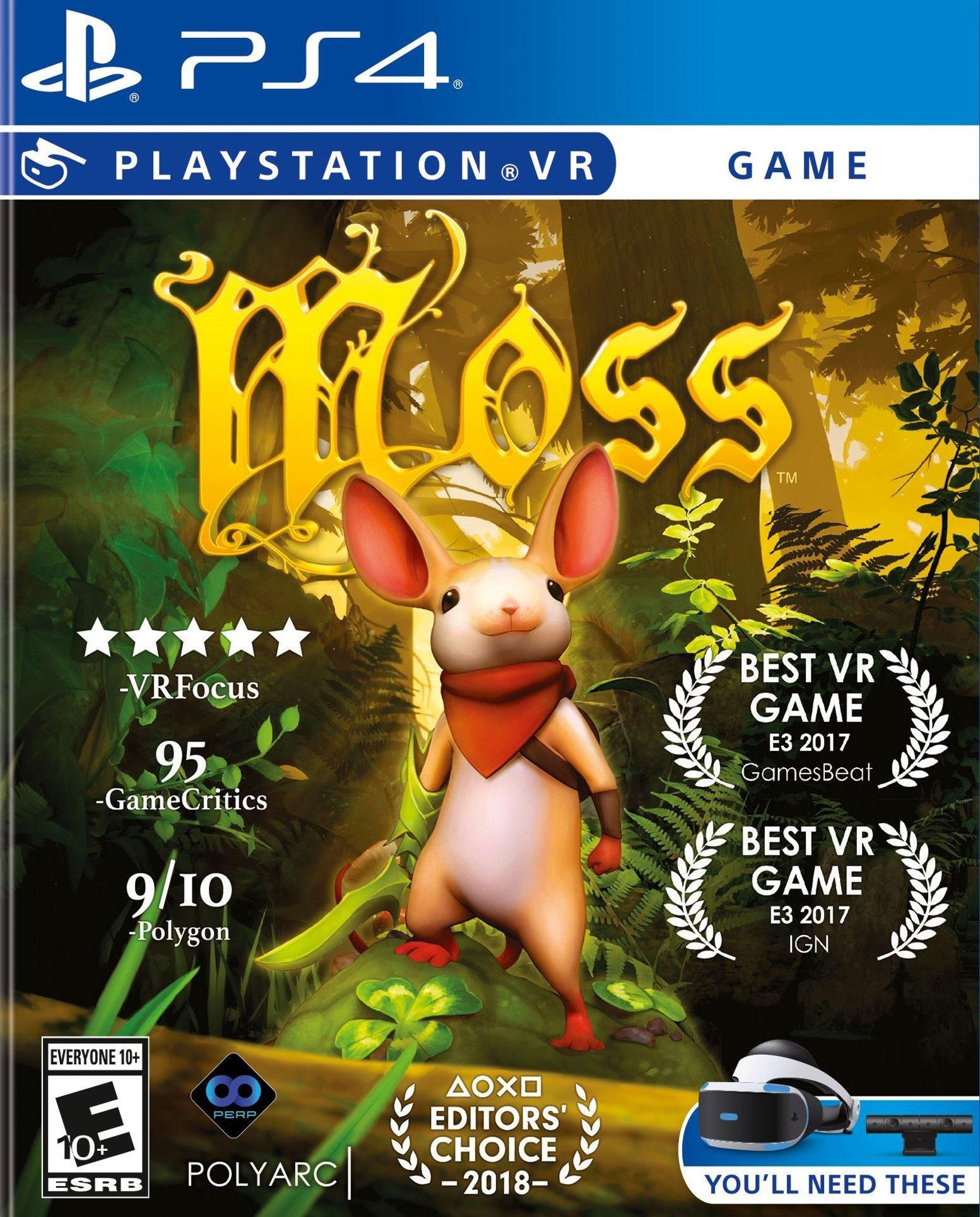 Shop
No Man's Sky Beyond is one of the latest post-release updates to the No Man's Sky game. This adventure game was published by Hello Games and received a rating of T for Teen. Single-player and multiplayer modes are available in No Man's Sky Beyond, and this game is available on PlayStation VR, Oculus Rift, and HTC Vive.
This game is built around exploration, survival, combat, and trading, with players free to operate within an open universe. To begin with, players must mine for resources to power and improve their ship and other equipment and buy and sell resources using credits earned by taking note of flora and fauna. If grinding and building up your character don't sound like fun to you, then No Man's Sky may not be your cup of tea. However, once your character and ship are sufficiently leveled up, you can take on special missions, explore worlds, and more.
When the game was initially released, it was met with criticism. However, multiple post-release updates have added great features like choosing a home planet and building a base there where much of the mining and resource collection can be completed by friendly aliens. With the Beyond post-release update, the game's multiplayer features were further expanded upon, allowing for up to 32 players on the same server who can meet up in a "Nexus" and take on missions.
In the end, No Man's Sky Beyond is simply one of the best VR games available. With an extensive and immerse world, cross-platform multiplayer mode available, and hundreds of hours of playtime, this game is a great option for serious gamers and for newbies to the VR game world.
Read More
Key Features
Expanded multiplayer up to 32 players
30 hours of story
Available on PS VR, Oculus Rift, HTC Vive
Specifications
Genre: Adventure, Survival
Mode: Single-player, Multiplayer
Rating: T
Publisher: Hello Games
Pros
Extensive world
Multiple post-release updates
Play for hundreds of hours
Cross-platform multiplayer available
Cons
Time consuming to mine for resources
Occasional inventory management issues
Star Trek: Bridge Crew is a blast to play, especially with friends. Published by Ubisoft and available on Oculus Rift, PlayStation VR, and HTC Vive, this Star Trek game allows you to play as a crew member from the comfort of your couch.
Star Trek: Bridge Crew allows players to join the crew on the original bridge of the U.S.S. Enterprise NCC-1701. Similarly, an all-new ship is introduced, which is called the U.S.S. Aegis. As a crew of four players, you can choose to be either a Captain, Helm Officer, Tactical Officer, or Engineer. Captains keep track of orders and objectives, as well as give out assignments, Helm Officers control the ship's speed and course, Tactical Officers manage weapons and sensors, and Engineers make repairs and manage power resources.
This game is all about teamwork, requiring players to keep in constant communication as you battle enemies, avoid natural hazards, and explore the depths of space. If movement isn't your thing, this game doesn't require you to move from your couch, as you man one of four workstations and use motion controllers to interact with the game's environment. Alternatively, if your friends aren't feeling up to it, you can play single-player with three AI crewmembers on your team.
For fans of Star Trek or for those looking for a great multiplayer VR gaming experience, Star Trek: Bridge Crew is a great game. With intuitive gameplay and cross-platform play available, this game is a great pick for everyone. Just don't forget to bring your friends.
Read More
Key Features
Four key roles available to take on
Seated experience
Available on Oculus Rift, PS VR, HTC Vive
Specifications
Genre: Action-adventure
Mode: Single-player, Multiplayer
Rating: E 10+
Publisher: Ubisoft
Pros
Best to play with friends
Cross-platform play available
Intuitive gameplay
Encourages team work
Cons
Less interesting single-player mode
Some missions are boring
Artktika.1 is a gorgeous story-driven first-person shooter game made exclusively for Oculus Rift. Published by 4A Games and rated M for Mature, this single-player adventure can accurately be described as action-heavy.
Set in a futuristic world, Arktika.1 has you play as the last hope of one of the few surviving colonies left in the aftermath of a silent apocalypse. Your goal is to protect the Arktika.1 colony, which sits in the cold and barren wasteland of old Russia. Raiders, marauders, and terrifying zombie-like creatures are your enemies and you must make use of all the VR techniques to dodge, hide, evade, and combat them using a range of high-tech weapons. With a fascinating backstory that explains how only a few pockets of humanity have survived thanks to resource-rich territories in the north and south of the planet, Arktika.1 asks you to play savior and give humanity a second chance.
The VR mechanics of Arktika.1 are a bit limited, as travel is by teleportation to select locations. Further, environments can't be explored after you've completed a mission there. Similarly, you can interact with many different objects at your base, but within a given mission, you can only interact with what's necessary. Still, despite these minor limitations, this game is breathtaking, fun, and a bit scary.
Artkitika.1 is a great game, with a unique premise and great jumpscares. With beautiful immersive graphics and cool weapons to choose from, this game will keep you entertained and occupied for hours on end.
Read More
Key Features
Story-driven campaign
Available on Oculus Rift
AAA package
Specifications
Genre: First-person shooter
Mode: Single-player
Rating: M
Publisher: 4A Games
Pros
Action heavy
Beautiful graphics
Fun scare scenes
Plenty of weapons and levels available
Cons
Only compatible with Oculus Rift
Limited to single player
Buy This Product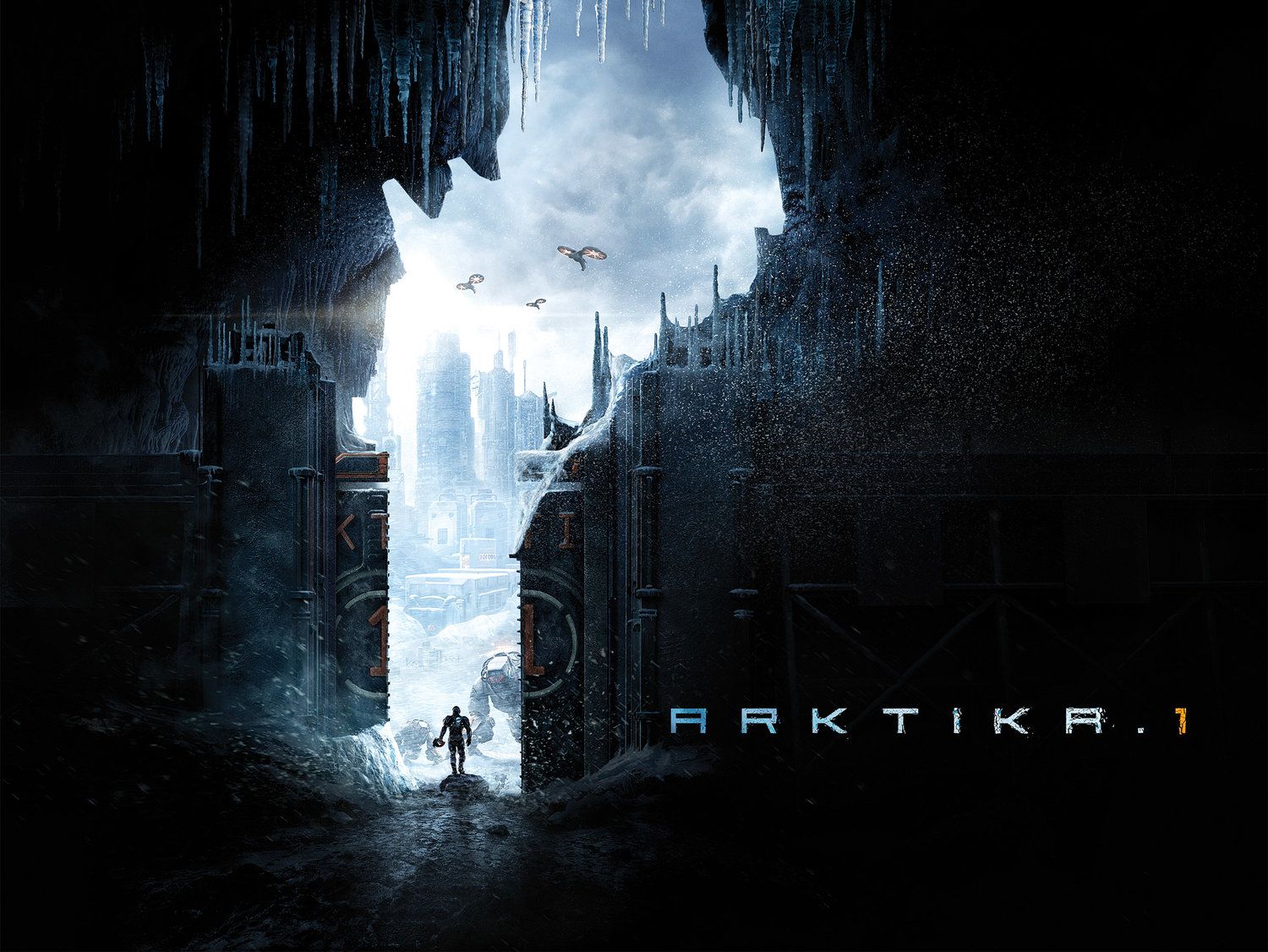 Shop
Farpoint is a fun first-person shooter rated M and published by Sony. With both single-player and multiplayer co-op modes, this game is only available on PlayStation VR.
Farpoint is set on a hostile alien planet after a mission to pick up scientists near Jupiter goes horribly wrong. The group was studying a strange anomaly when a sudden rupture forces your character and the scientists' station to crash land on an alien world. Alone and apart from your colleagues, your character uses holographic logs to reunite with your fellow scientists and escape the planet. One catch, however, is that the logs are scattered across the planet, forcing you to explore the landscape and combat hordes of aliens and monsters along the way.
Farpoint allows users to play either a full-length single-player campaign or in a two-player co-op mode. Either way, you must master weapons such as plasma rifles and railguns in order to shoot your way to safety. Something quite unique about Farpoint is that it is the first PlayStation VR game to use the PS VR Aim, a gun-like controller made for first-person shooter VR games.
Two different downloadable expansion packs were made available following the initial release of the game. They allow users to explore new maps, master new levels, and try three new player skins and 15 new weapons.
With immersive gameplay mechanics and stunning visuals, Farpoint not only has cool gunplay but also an engaging world and environment. This game is an all-around fun experience that really allows the mechanics of PlayStation VR to shine.
Read More
Key Features
Available on PS VR
Single-player campaign or 2-player co-op
Space adventure set on a hostile alien planet
Specifications
Genre: First-person shooter
Mode: Single-player, multiplayer
Rating: M
Publisher: Sony
Pros
Cool gunplay
Stunning visuals
Immersive game controls
Engaging world
Cons
Compatible only with PS VR
Story goes downhill
Buy This Product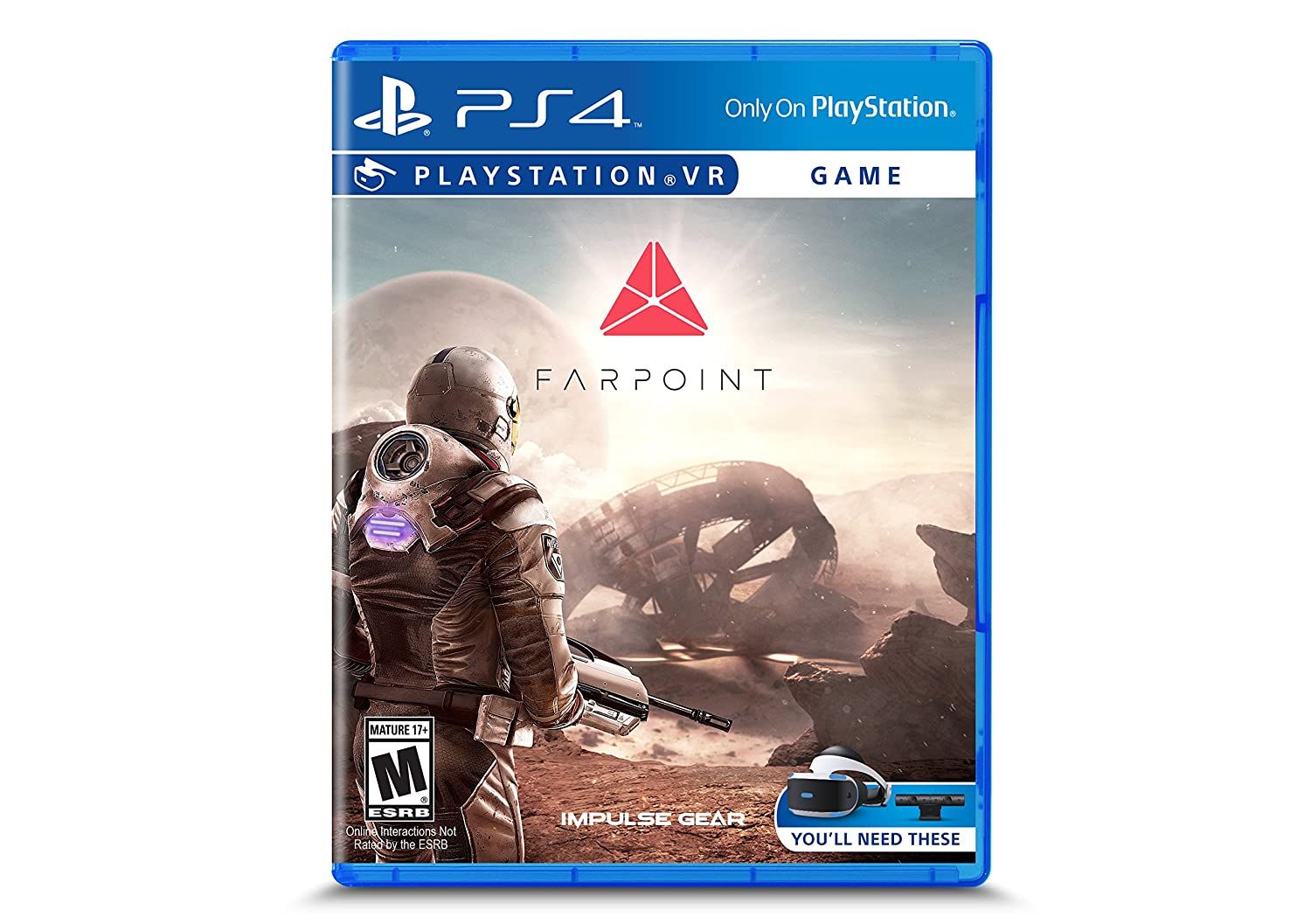 Shop
Resident Evil 7 Biohazard is the most complete Resident Evil gaming experience to date. It fine-tunes many of the franchise's mechanics and the plot offers plenty of mystery and fright. The ability to utilize VR takes the franchise's level of terror to the stratosphere.
The game is played from a first-person perspective. When you load the first level and strap on that VR headset, you just know you're in for a rollercoaster of a ride. There is a major shift from a gameplay perspective. Resident Evil 7 tones down the action in favor of exploration. A massive emphasis is placed on moving about different environments and learning secrets along the way.
The player will spend time ducking around corners, evading zombies and the Baker family. In terms of fear and suspense, the player is in a constant state of pressure. Resident Evil 7 utilizes a slow-burning type of horror. The player can feel the buildup as it occurs. This makes matters extremely tense when navigating dimly lit areas.
The graphic quality must be praised. Resident Evil 7 excels in terms of delivering a high-level audiovisual experience. The scenes look gorgeous in VR mostly due to the effective use of lighting and shading. Furthermore, the sound effects are sure to make the hair on your arms stand tall.
The game's plot progression is timed to perfection. As Ethan, the player aims to investigate the sudden disappearance of his wife. Ethan is tasked with surviving a tense situation that forces him into the center of the action. Players will enjoy the various puzzles to complete, areas to explore, and zombies to shoot.
Read More
Key Features
Sequel set to release in 2021
First-person perspective
Mysterious plot
Specifications
Genre: Horror
Mode: Single player
Rating: M
Publisher: Capcom
Pros
Investigating and exploring aspects
Creepy setting
VR graphics are incredibly sharp
Slow-burning horror is executed perfectly
Cons
Disappointing conclusion
Boss fights could have been better
Iron Man VR allows players to control one of the most beloved Marvel characters of all time. Strap on your VR headset and take flight in Iron Man's famous suit of armor. This game brings an original story to life. Iron Man faces off against a notorious cyberterrorist named Ghost. Ghost has his eyes set on Tony Stark and his company Stark Industries.
This game is unique in that it combines the aspects of a shooter with a flying game. Most of the action takes place in the air as you don Iron Man's suit and soar through the sky. Utilizing Iron Man's weapon system is a dream come true for comic book fans. In all honesty, it is a joy for non-Marvel enthusiasts as well.
The environments change quite often which freshens up the gameplay and visual aspect of the game. Without the changing of landscapes, the player would feel the repetitiveness of the gameplay much sooner. The story follows a linear form of progression as Iron Man completes mission after mission. As the player progresses through the game they will unlock new armor upgrades. This is a pleasant aspect of the game as the player easily gets enthralled with seeking out new upgrades for the famous suit of armor.
The game was nominated for best VR game at the 2020 Game Awards. Iron Man VR utilizes VR technology to perfection. With stunning visuals and responsive controls, the player will truly feel as though they are soaring through the sky.
Read More
Key Features
Original story
Flying-shooter
Nominated for best VR game 2020
Specifications
Genre: Shooter
Mode: Single-player
Rating: T
Publisher: Sony
Pros
Responsive controls
Sense of progression via armor upgrades
Constant shift of settings
Cons
Long load times
Missions can get repetitive
Buy This Product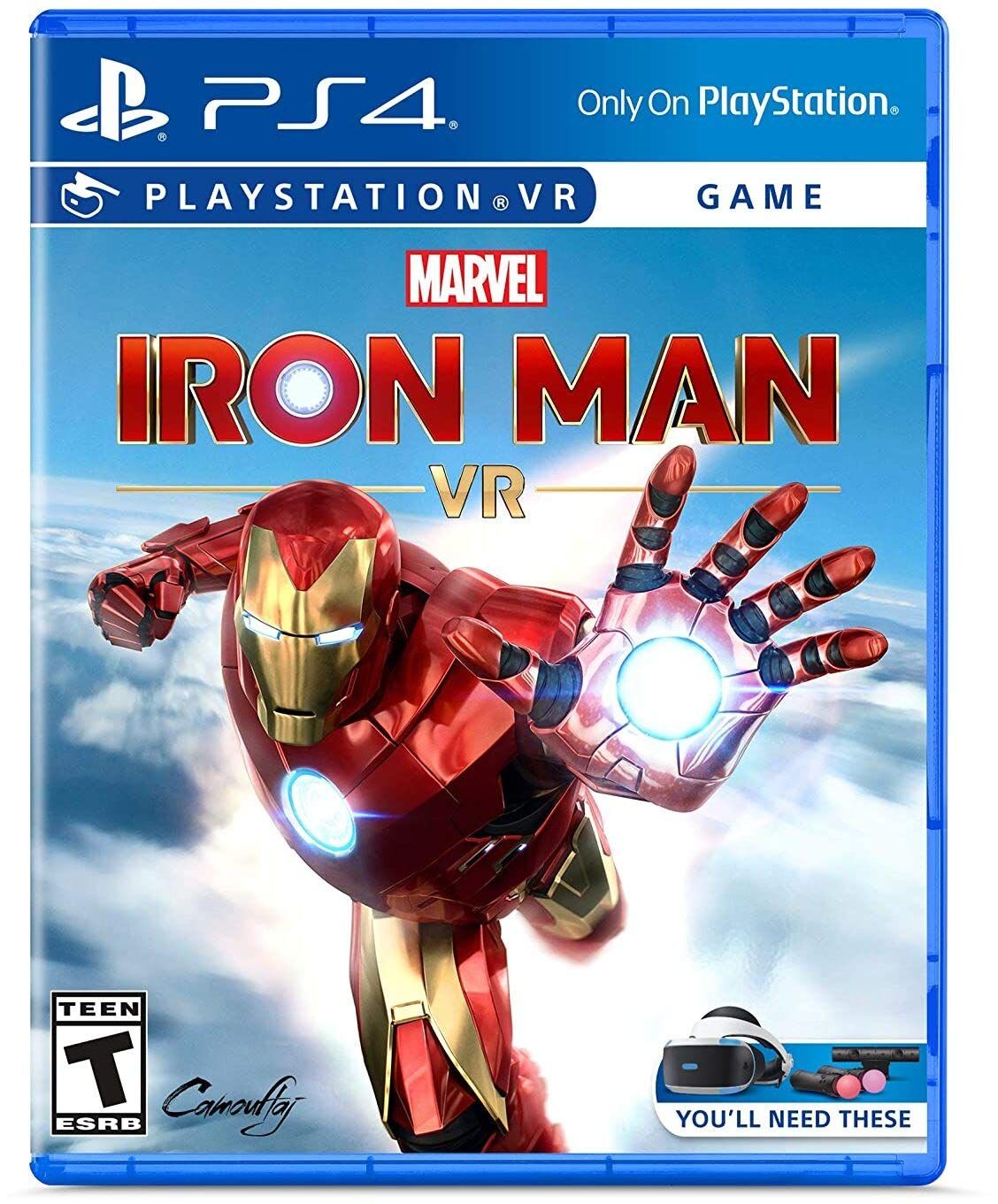 Shop
Batman: Arkham VR allows you to do what so many of us have only dreamed of, become Batman. This single-player adventure game from Warner Bros. allows you to step into the batsuit and play as a more detective-focused Batman. Rated M and available on Oculus Rift, HTC Vive, and PlayStation VR, Batman: Arkham VR is a fun and immersive game.
The game begins with Batman waking from a nightmare to discover that Robin and Nightwing have disappeared. What follows is Batman traveling through Gotham and interacting with villains such as Penguin, Killer Croc, Riddler, and Joker. As Batman, players can look around the surrounding environment, interact with items, and access a throwable Batarang, a grapnel gun, and a forensic scanner to examine evidence.
When it comes to traveling from location to location, the game relies on teleportation to preset locations such as the bat cave, Wayne Manor, and in downtown Gotham. In addition to the main puzzles that need to be solved in order to find clues that will ultimately help you figure out the mystery, Batman: Arkham VR also features optional tasks, including 30 challenges from the Riddler.
All in all, Batman: Arkham VR is a fun and fascinating standalone Batman adventure. You're encouraged to solve puzzles, find clues, and complete tasks, as you come face-to-face with some of Batman's most iconic villains and other characters. This game plays out like a movie, pulling you in and leaving you with a satisfying and thrilling twist.
Read More
Key Features
Available on Oculus Rift, PS VR, HTC Vive
Solve puzzles, find clues, complete tasks
First-person perspective
Specifications
Genre: Adventure
Mode: Single-player
Rating: M
Publisher: Warner Bros.
Pros
You get to play as Batman
Standalone complete adventure
Feels like a movie
Engrossing story with a twist
Cons
Lacks combat
Slower pacing
Buy This Product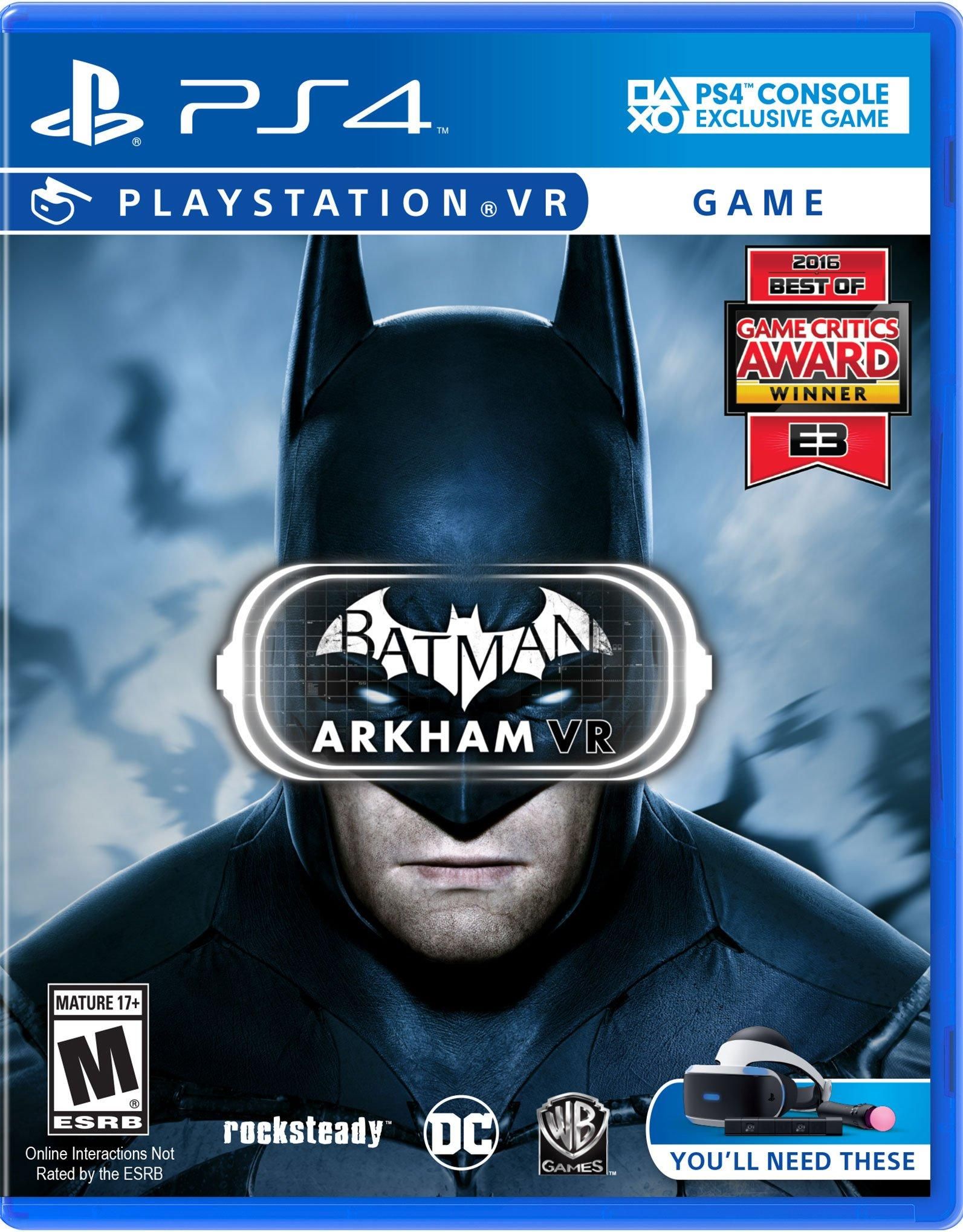 Shop
Eve: Valkyrie is a great first-person shooter game that also falls under the vehicular combat genre. With gameplay available in both single-player and multiplayer modes, this T-rated game was published by CCP Games and is accessible on Oculus Rift, PlayStation VR, and HTC Vive.
Eve: Valkyrie allows you to become an elite fighter pilot with the Valkyrie, an outlaw band of space pirates as you immerse yourself in virtual reality space combat in the sprawling Eve Online universe. Competitive multiplayer action allows for cross-platform gaming and five different multiplayer modes in nine custom combat arenas, including snowy mountains and ancient ruins.
Skill-based character progression and ship upgrades allow you to control your character's combat style and you can collect Common, Rare, and Epic in-game items as you rank up and complete daily challenges. Choose from one of 13 spacecraft and one of four different classes, with each character and ship progression distinct from the next.
The single-player mode is limited and can't be played offline, however, this game is best played with a group as you compete with a team in the arenas. Similarly, this is a seated game that tracks your head movements to give you visibility inside your ship's cockpit, so don't expect any motion-controller input. Still, it's immersive for what it is, since your character is also seated inside a ship for the entire game.
Eve: Valkyrie is an exciting game that is best played with friends in multiplayer mode. With all the action of your favorite first-person shooter games plus great graphics, Eve: Valkyrie may be your new favorite VR experience.
Read More
Key Features
Available on Oculus Rift, PS VR, HTC Vive
Competitive multiplayer spaceship combat mode
Set in the Eve Online universe
Specifications
Genre: Vehicular combat, First-person shooter
Mode: Single-player, Multiplayer
Rating: T
Publisher: CCP Games
Pros
Cool ship design
Intuitive controls
Great dogfighting features
Unique arcade experience
Cons
No motion-controller input
Limited single player content
Buy This Product
Shop
So, you're looking to break into the world of VR games. Or maybe you're a seasoned gamer who is simply interested in a new world to explore. Either way, let's break down some of the basic facts and features of VR games.
Platforms of VR Games
All VR games, whether on PC or otherwise, mimic typical video game genres, so you have your first-person shooter games, your action role-playing games, your puzzle games, your platformers, and the list goes on and on. Similarly, all VR games can be played on computers or certain VR-compatible game consoles. There are three main VR platforms currently: Oculus Rift, HTC Vive, and PlayStation VR.
One of the first names in VR was Oculus. This tech company developed the Oculus Rift specifically for video gaming and later released its own remote controller, the Oculus Touch. Many games were released exclusively for the Oculus Rift, only to be later released on other platforms.
Next came the HTC Vive, which was compatible with computers running on Windows, Linux, or Mac OS. This headset used room-scale tracking technology and came complete with a controller, a base platform, and a tracker.
Finally, PlayStation released their VR headset, which was praised for its simplicity and accessibility. Unlike the Vive and the Rift, which are compatible with computers and require a lot of power to run, the PS VR only required a PlayStation 4. This allowed for dedicated PS4 gamers a new option to explore and, after releasing some classic games in a VR format, users could truly immerse themselves in their favorite games.
Features of VR Games
To state the obvious, the features of VR games depend entirely on the type of game. For example, how movement is used and needed in a VR game is very different based on the game's type. An action-based game may require players to use much of their body to punch and shoot, while puzzle games may require users to remain seated, but move their head and torso to look around the virtual world. The different motion trackers that come with the VR system will capture all ranges of movement, whether you're walking, standing, or sitting.
Another feature of VR games is the graphics. Some VR games are extremely realistic with their animation, making users feel truly present in the fictional world. Other games are meant to be more cartoonish, showing users what it would be like if they'd fallen through an Alice in Wonderland-style rabbit hole. Even still, some games are meant to be cinematic in their graphics, allowing users to experience being in a movie.
Weaving a (VR) Narrative
Lastly, just as with any other console or PC game, the story matters. Depending on the type of VR game you're playing, the narrative could be in-depth and detail-oriented or virtually non-existent. Graphics and story in a VR game go hand-in-hand to make users feel invested and immersed, similar to a movie. Solving a mystery in a game's plot may be so intriguing that you lose all sense of time and place! For other games, it's less about story and more about gameplay, so you can truly see the VR tech in action.
All in all, VR games are fascinating to play, study, and experience. Whether you're in it for the plot and graphics, or just looking to have an experience you may never be able to have in real life, like being Batman or killing a zombie, some of the best VR games on the market will help you fulfill all your wildest dreams.
FAQ
Q: Are VR games bad for your eyes?
There have been conflicting reports when it comes to VR eye safety. At first, several doctors were sharing information that VR may damage eyesight. However, a recent publication from the Association of Optometrists detailed that it had not seen evidence of VR headsets causing permanent eye damage. We know that there are risks involving nausea and motion sickness, which are related to how your eyes perceive VR technology. Ultimately it is best to approach the situation with caution seeing as this technology is relatively new. Hopefully, in a couple of years, we'll have sufficient data to confidently denounce the risk of eye damage.
Q: Are VR games hard to run?
The best VR games require some heavy-duty equipment to run smoothly. Since we're dealing with incredibly modern technology, certain PC specs, and console requirements must be met. When VR games first launched, they were said to be about 7.5x more demanding than traditional games. There have been improvements and optimizations over the years. However, gamers must still expect to own some high-powered PC equipment. Depending on the game, and specific VR headset in use this may vary. In general, it is best to check which specific computer specs must be acquired to run the best VR games smoothly. A next-gen console such as the PS5 may have an easier time running VR. Nonetheless, long load screens can still be expected.
Q: Is VR good for exercise?
It is possible to exercise using VR technology and games. However, the effectiveness of said methods is still up for debate. The most effective use of VR for exercise is cardio-related movements. Activating your cardiovascular system by playing the best VR games is quite simple. However, in terms of exercise depth, there aren't many rewarding actions. If you're looking to solely implement a cardio routine then VR games have been proven to work. One such game titled Beat Saber has been effective for several individuals who have lost upwards of 25 pounds. Ultimately VR exercise can be utilized in tandem with a traditional exercise routine for the best results.
Q: What is FOV?
FOV is a term used to describe what the player can see with their eyes. It is short for field of view. Field of view takes into account everything visible to the wearer of a VR headset at a specific time. Field of view relates to sight in the virtual world. The normal field of view is much larger than the field of view when wearing a VR headset. Thus, there is a period where the player must adapt to this new line of sight. Field of view is a setting that can be toggled and changed from game to game. For certain games, such as shooters, players will want a wide field of view. While other games will suggest a narrow focus and smaller field of view.
Q: Does VR cause motion sickness?
It is normal for players to feel some discomfort while sporting a VR headset. Motion sickness and moderate nausea are some side effects that can be expected while wearing the headset. The likeliness of nausea occurring is greater if the player does not match the in-game movement required. For example, if the in-game character is standing while the player is sitting on a couch, this will create a disconnect between your body and the perception of VR. If you're someone who has a low tolerance for motion sickness it is more likely that you will experience some form of this while using a VR headset. While the opposite can be said as well. Those with a high tolerance will only feel a slight discomfort if any.
Q: How much does a VR headset cost?
Seeing as VR headsets are a relatively new piece of technology, they come at a steep price. What's more, is that they are notoriously difficult to find. The prices vary depending on the model and build. The cheapest headset can be purchased for a price of around $299. Although, these models may not represent the highest quality. The average price would range between $499-$599. Of course, some luxurious headsets boast the most impressive technology available to consumers. These headsets retail for around $899-$1099. Ultimately it will be up to the buyer to discern which price range and quality will match their needs.
We hope you like the items we recommend! CBR has affiliate partnerships, so we receive a share of the revenue from your purchase. This won't affect the price you pay and helps us offer the best product recommendations.
Share this Buyers Guide
About The Author

Margeaux Perkins
(34 Articles Published)

Margeaux Perkins is a writer for CBR and Screen Rant, specializing in buyer's guides and product reviews. Previously, she's worked as a podcast writer for the Parcast Network, an obituary writer for Encyclopaedia Britannica, and as a bestselling video game strategy guide ghostwriter for Scholastic. She's passionate about East Asia (where she lived for 5 years), baked goods, and TV.
More From Margeaux Perkins