Conquest Professional headphones for Quest 2 evaluation: An epic audio improve
The Oculus Quest 2 built-in audio is surprisingly rich and robust, so buying headphones has always been more optional than other accessories. Still, the sound leak does make Quest 2 headphones a must-have to avoid annoying your family or roommates, and certain games really benefit from improved surround sound.
The issue with many Quest 2 headphones is that they're not always the most comfortable. Over-the-ear headphones make you feel overly warm during active play and don't always slot over some custom head straps. Earbuds are more likely to fall out, have less room for punchy sounds, and can make your ears hurt after a while.
With the Conquest Pro VR headphones for the Oculus Quest 2, they take the "Frankenquest" approach, clamping to the headset's side straps and hovering around your ears so you can place them on your ears without enveloping or weighing them down. The extra weight rests on the headset instead of your head, which comes with its own set of pros and cons.
Put plainly, the Conquest Pro headphones live up to the moniker: these headphones are for serious VR gamers that spend a lot of time in headsets and want the best comfort and audio quality. They do have some downsides, which we'll address below, but if you don't mind the extra cost and weight, these are an absolute upgrade over the Meta-recommended Logitech headphones.
Conquest Pro headphones: Price and availability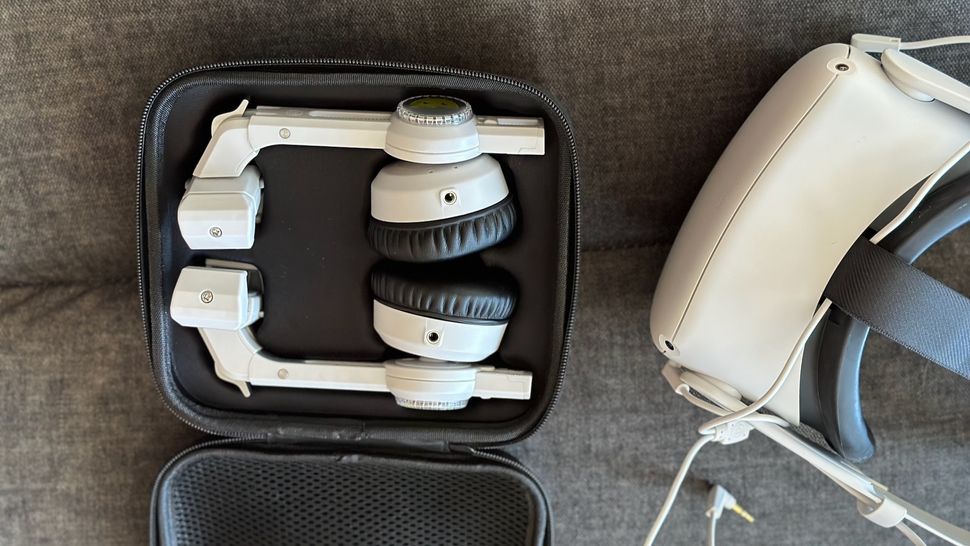 (Image credit: Michael Hicks / Android Central)
The Conquest Pro VR headphones launched in October 2022 at a preorder price of $179 before rising to $199. They can frequently be found at a discount, but only sell directly from the Conquest VR website (opens in new tab); you won't be able to find them on Amazon or other retailers. The box comes with two separate headphones, a 3.5mm cable, a carrying case with two headphone slots and a zippered pocket, and some spare logo discs.
Conquest Pro headphones: What you'll love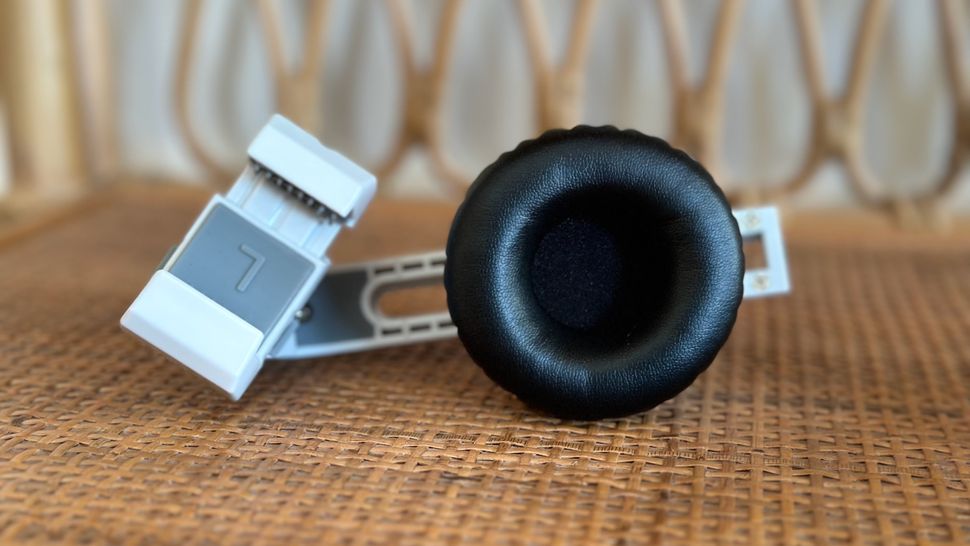 (Image credit: Michael Hicks / Android Central)
To install the Conquest Pro VR headphones, you'll follow a 4-minute how-to video (opens in new tab) showing how to attach the headphones to your Quest 2 and adjust them to your head size. While the process looks intimidating at the start, it really does take less than ten minutes to set them up, or less than five once you know what you're doing.
Basically, you take each headphone, open the clamp, close it on the side strap close to the face cover, and feed a 3.5mm cable through the built-in slot towards the headphone's jack. You can tell the cable was thoughtfully designed with the Quest 2 in mind, and you can turn the earpieces to make the cables go completely taut — no need for flimsy velcro or tape.
Once attached, the Conquest Pro headphones can be adjusted to fit any possible head size by lifting the latch, then fixing them in place by closing the latch. They can move up, down, out, or in depending on your head width or height. You can also tilt the earpieces at an angle or adjust a separate knob to slide them up and down, a great boon if you share your Quest 2 with a younger user.
As someone with a big head (physically, not metaphorically), I love this flexibility. Regular headphones tend to press into my ears, adding pressure and uncomfortable warmth, but the Conquest Pro headphones can either sit gently against your ears or slightly away from them. Conquest VR says the built-in drivers use "Audio Adapt" to adjust the sound with a loose fit in mind instead of relying on an ear seal to work properly.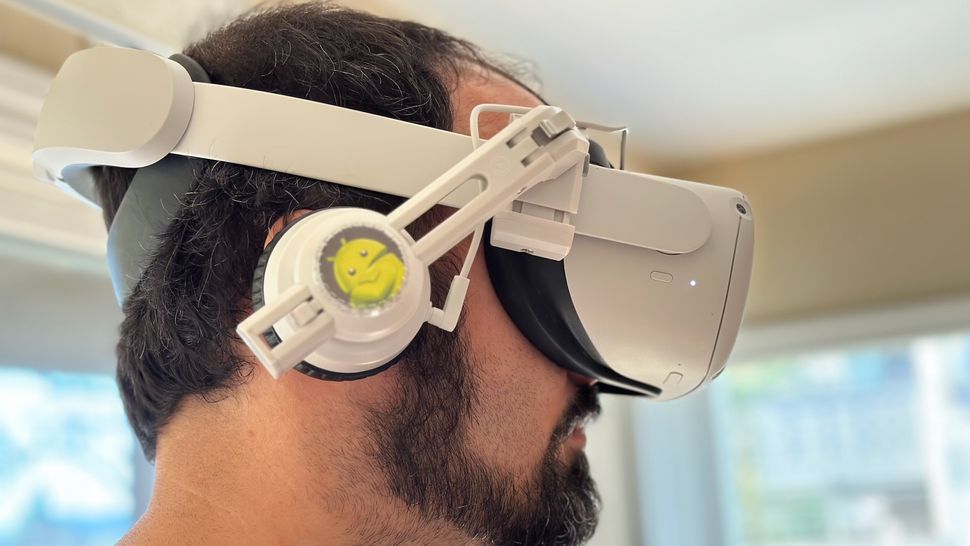 (Image credit: Michael Hicks / Android Central)
The Conquest Pro headphones passively block the world around you, but not actively; some will want ANC for total immersion, but that can be dangerous or irresponsible if you need basic knowledge of your surroundings in an emergency.
The passive blockage is already more than enough, both for you and anyone nearby. I had my partner stand next to me while playing the Lizzo DLC pack, and she said she could only hear it if she got very close and I turned the volume up louder than I normally would. It's a relief that noise pollution isn't a serious issue since these don't have a true seal on your ears.
We'll talk later about how, ahem, silly these headphones make the Quest 2 look as a whole, but Conquest VR did design them with a similar gray tint and black padding to the headset's default coloring, so they match quite well.
The one spot of color is the logo disc, which you can detach to swap in new designs to give your headset your own signature touch. Conquest VR inserted the old Android Central mascot, Lloyd, into my review unit, which I found to be a cute touch.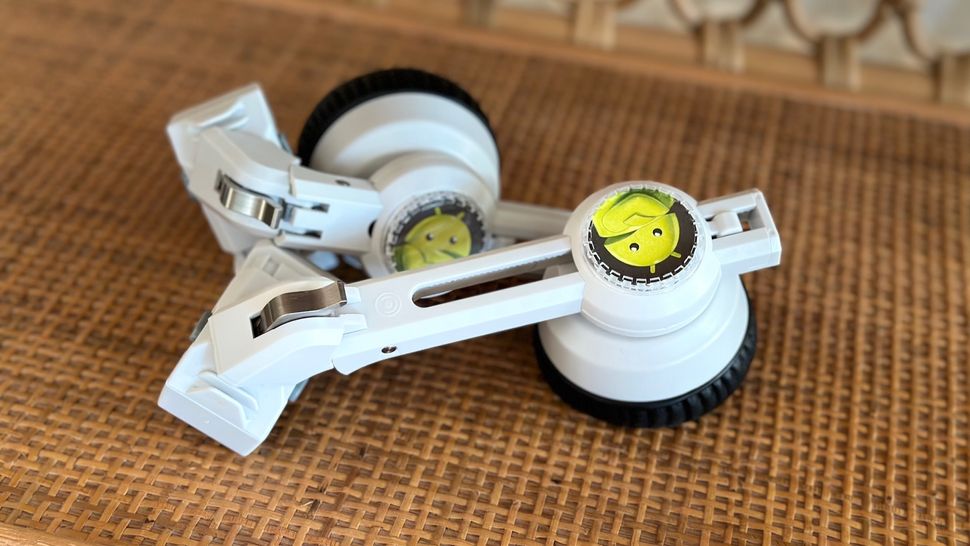 (Image credit: Michael Hicks / Android Central)
Beyond look and feel, the most important element of any headphones is, of course, the audio quality. The Conquest VR headphones use 40mm drivers, 32-ohm impedance, and hit a rare 20 to 40,000HZ frequency range to support "Hi-Res Audio."
Most headphones only hit 20,000Hz, since the human ear can barely even register sounds above that frequency — especially as you get older. Plus, it's unclear how many VR games will actually take full advantage of the Hi-Res Audio format since it's a fairly rare standard for headphones to hit. What's more important is, quite simply, these headphones produce louder and richer audio than the built-in Quest 2 speakers can produce, as well as 360º spatial audio.
It's that directional sound I most appreciate when playing games like Resident Evil 4 VR when I need to know from which direction a chainsaw-wielding villager is approaching. The same will apply to any popular VR shooter for tactics, or for immersion in social VR games or virtual workrooms.
Plus, for a game like Beat Saber or Supernatural with licensed music, you can certainly tell the difference, getting the same high-quality audio you're used to with your favorite non-VR wireless headphones.
Conquest Pro headphones: What you won't love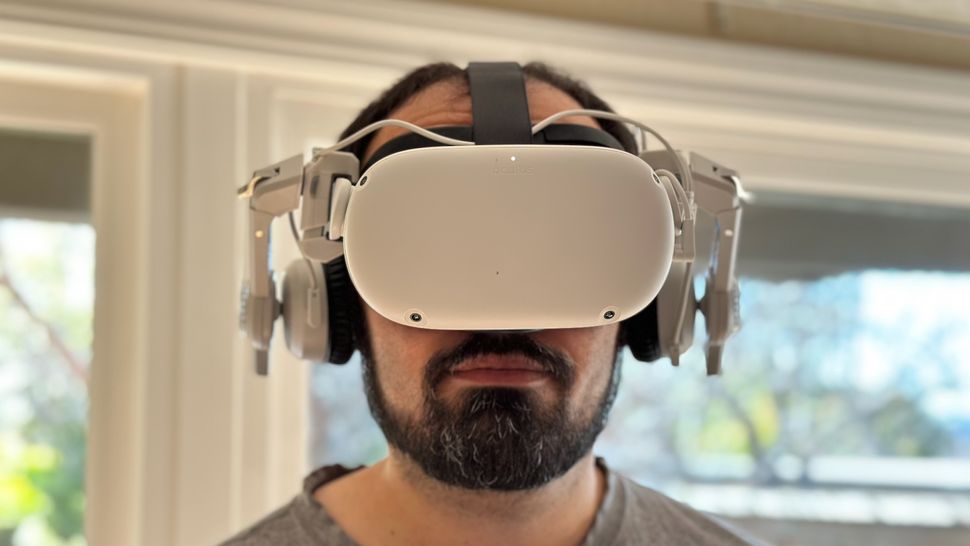 (Image credit: Michael Hicks / Android Central)
If you're used to a more "hardcore gamer" VR aesthetic, or if you're the only one around when you don your Quest 2 headset, then you'll be fine with the Conquest Pros. But I can't deny that these look pretty corny. When I attached the earpads for the first time, my unprepared partner laughed and told me the total Quest-Conquest package looked like "something out of a Star Wars knock-off based on what people in the 70s thought the future would look like."
More practically, when you place your headset down with the Conquest Pros attached, the headset sinks on top of the headphones and puts a strain on the adjustable clamps. So I have to turn the headset over when I take it off — which often causes the Elite Strap to compress — and place it on a surface upside-down. It's just one more thing to worry about, and I'm not sure if the headset would still fit on the Anker Charging Dock with them attached.
But hey, maybe you'll like the feeling that you're wearing some massive cyberspace rig every time you put it on. The bigger question is whether or not you want your Quest 2 headphones sitting on the headset or on your ears, because each solution has its pros and cons.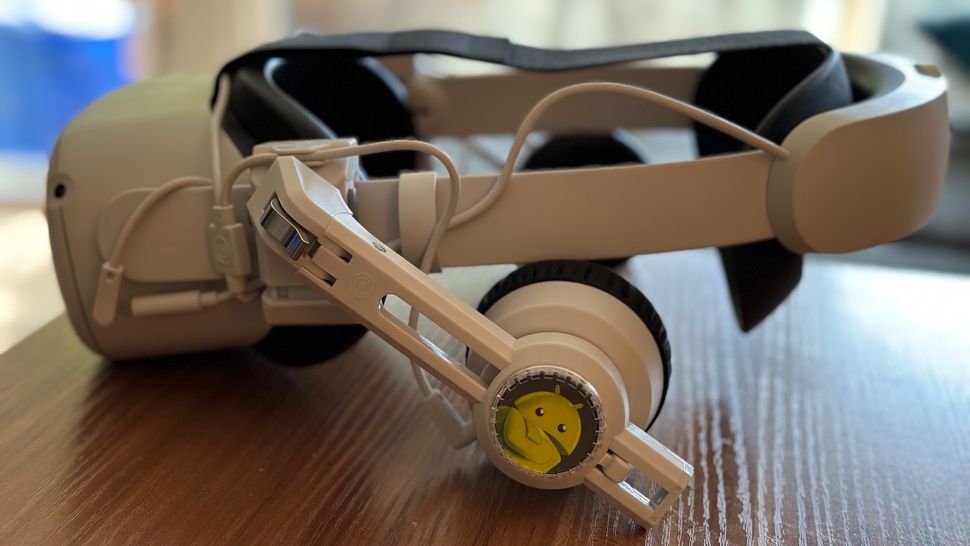 (Image credit: Michael Hicks / Android Central)
Wearing on- or over-ear headphones makes you hot and sweaty and puts pressure on your ears. The Conquest Pro VR weighs about the same as most headphones at 295g or 10.4 oz, but that weight attaches to the Quest 2 (503g) and whatever Elite Strap you've installed, which adds even more weight. Combined together, your "Pro" rig will probably weigh more than your neck is used to.
Playing VR exercise games, for example, you'll certainly notice the difference, which makes it a bit harder to submerge yourself into the workout; but at the same time, you'll sweat less because the headphones don't swallow your ears, the headphones do stay firmly in place even when you jerk your head back and forth, and they do at least counterbalance the headset's front-heavy design . So you have to decide which tradeoff you prefer.
One last issue is that these large headphones are too large to fit inside most Quest 2 cases. You can quickly detach them and place them inside the complimentary carrying case, but it's an extra step if you take your headset on the go a lot. To be fair, though, most over-ear Quest 2 headphones won't fit either.
Competition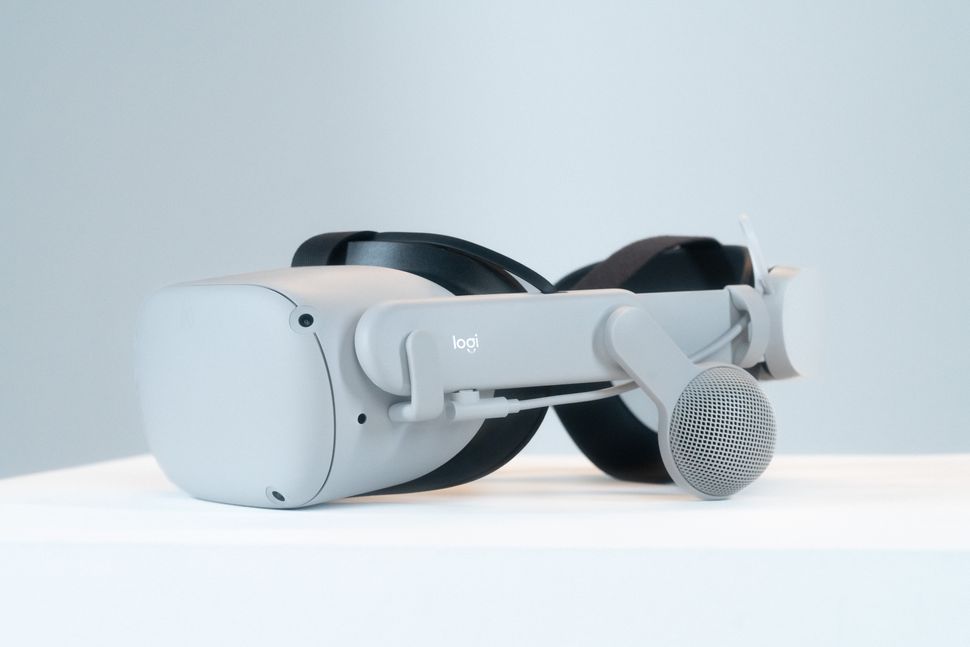 (Image credit: Logitech)
We'll be certain to include the Conquest Pro VR headphones on our list of the best Quest 2 headphones. Most other Quest 2 options cost significantly less than the Conquest Pro but also have a more traditional on-ear design that many people dislike.
One unique option you should consider is the Logitech Chorus, which are purposeful "off-ear" headphones. They also attach to the Quest 2 side straps, but they collectively weigh 6.4oz/180g, significantly less than the Conquest Pros. That gives you less room for large drivers and booming sound, and the design allows for more noise pollution than you might like. But they look less garish and are more likely to fit inside whatever Quest 2 case you own.
Conquest Pro headphones: Should you buy them?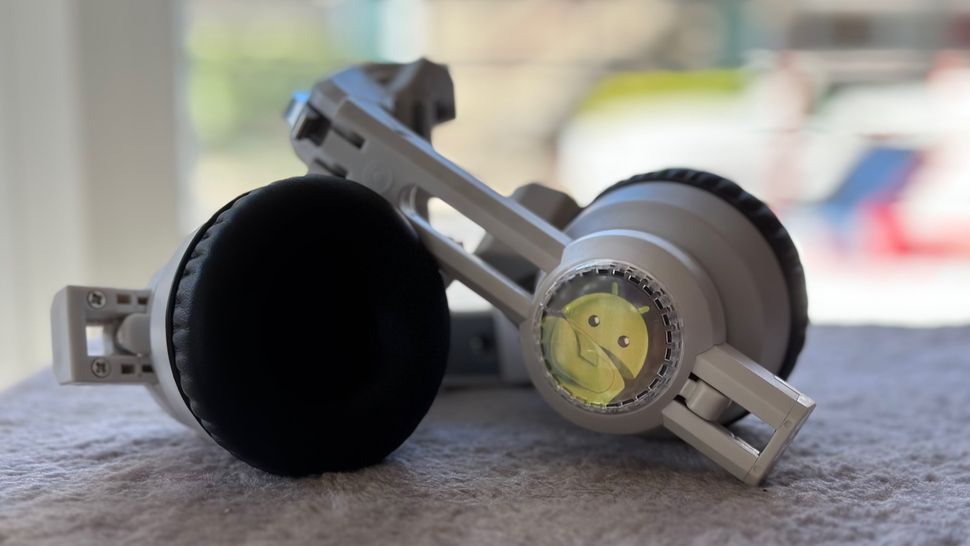 (Image credit: Michael Hicks / Android Central)
You should buy these if…
You want rich surround sound that doesn't leak out into the room.
You hate the feeling of headphones resting on your ears during VR games.
You'd rather know what's happening around you than preserve total immersion.
You shouldn't buy these if…
You're on a tight budget.
You don't want your headset to look silly.
You don't want to weigh your headset down too much.
If you can snag the Conquest Pro VR headphones at lower than the eye-watering list price, then you're getting an excellent deal. Most "Hi-Res Audio" headphones are going to set you back over $100 anyways, and these have the benefit of being lovingly designed with the Quest 2 headset in mind, beyond just the custom-length cable.
Having used them for some time, I've found that I like to remove the Conquest Pros for my Quest 2 fitness training but reattach them for playing, well, all of my favorite Quest 2 games. They're noticeable at first, but very quickly the spatial audio immerses me into a world to the point that I forget all about them. And while I don't play many PC VR games or spend much time in VRChat, I'd bet these headphones would cater to both very nicely.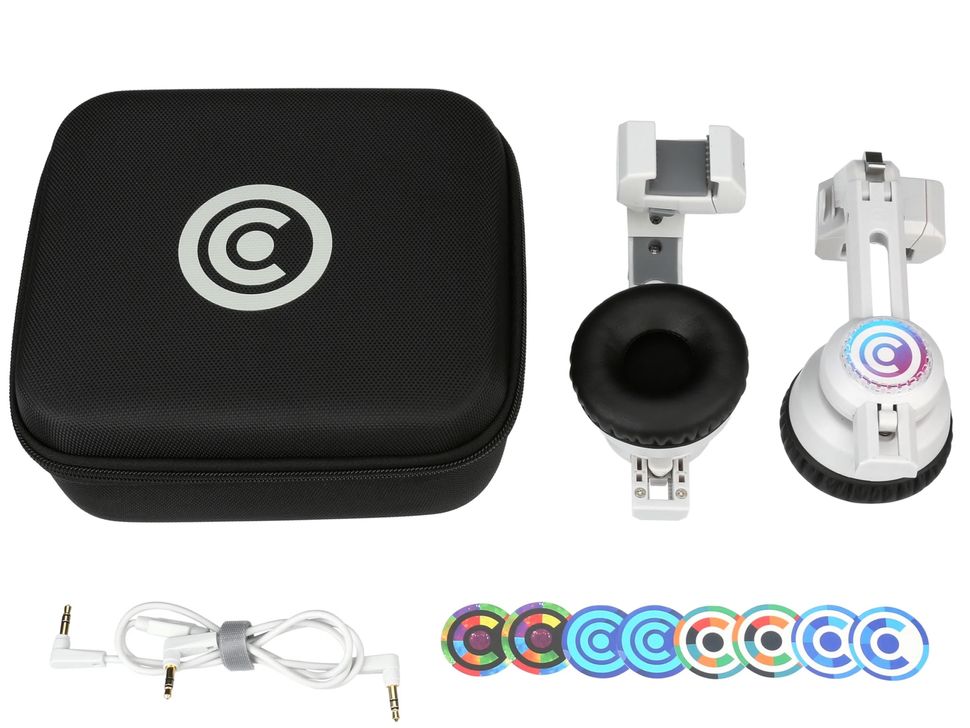 Conquest Pro VR headphones
Looking to upgrade your Quest 2 rig with the best possible audio? These Conquest Pro VR headphones will make a huge difference for directional audio and stop your ears from overheating during intense games.